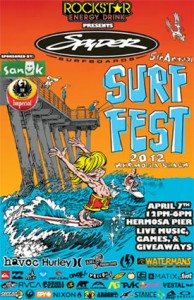 The fun of surfing and the lucrative ideal of being a surf brand meet this weekend in Hermosa Beach for the 5th Annual Spyder Surf Fest. All types of swag giveaways, live music, hall of fame inductees, and some competitive surfing highlight this three-day event that commences Thursday night at Watermans. The city of Hermosa Beach will induct two of its newest members to The Surfers Walk of Fame and old school rivalries between Mira Costa and Redondo Union High School surfing alumni battle in the water for annual bragging rights on Saturday.
The legendary surf weekend moves on down the line Friday night into the Hermosa Beach Community Playhouse. Here, the South Bay Boardriders Club present the "South Bay Big Wave Challenge Award," honoring both the surfer who caught the biggest wave of the winter in Los Angeles County waters as well as the photographer who captured the image. Snacks, live music, a movie or two, and a silent auction by the Hermosa Beach Historical Surfing Museum round out the evening.
Saturday at around 12:30pm the Hermosa Pier decorates itself with surf branded tents, games, and giveaways for both groms and adults. Live music kicks off at the base of the pier with performances from the likes of Kevin Sousa, Echo Division, and Hoist the Colors.
Here's a tentative schedule for Saturday's events courtesy of Spyder's website:
8 a.m. Redondo High School v Mira Costa High School Alumni Contest – South Side Hermosa Bch Pier
11 a.m. Surfers Walk of Fame Induction Ceremony of Mark Levy and Steve Wilkings on the Pier
12:30 p.m. Spyder Surf Fest Kick Off
Band Times (tentative)
12:15 p.m.-12:45 p.m. West Swell
1 p.m. – 1:30 p.m. Kevin Souza
1:45 p.m. – 2:15 p.m. Echo Division
2:30 p.m. – 3 p.m. Fashion Show
3:15 p.m. – 3:45 p.m. Too Rude
4 p.m. – 4:45 p.m. Hoist the Colors
5 p.m. – 6 p.m. Levy Band