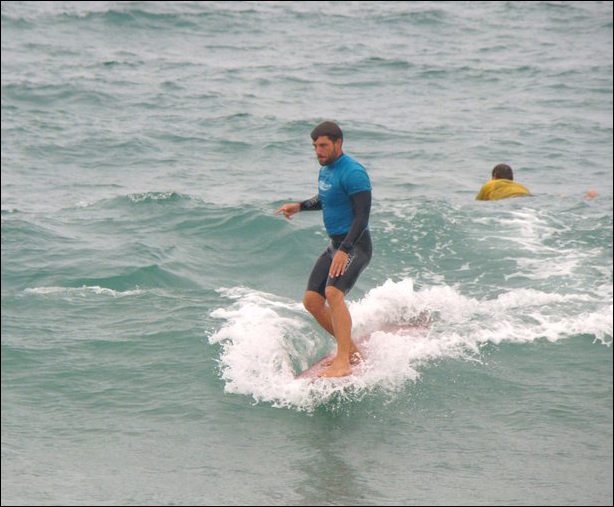 Hermosa Beach Summer Concerts return this Sunday and are free and open to the public; live music tends to start between 4pm and 5pm. This is the first round of this summer's HBSC events with more free concerts scheduled through August. Saturday night the Hermosa Beach concert stage converts itself into an outdoor movie theatre when "Raiders of the Lost Ark" (PG) shows for free starting at 7:30 p.m. The event is sponsored in part by Hermosa Beach Friends of the Parks and others.
Below are a list of South Bay Events happening this weekend.
2016 International Surf Festival: Thursday, August 4th – Sunday, August 7th Arguably the biggest weekend of the year in the South Bay, the International Surf Festival returns to Torrance Beach, Manhattan Beach, Hermosa Beach and Redondo Beach! An athletic competition involving several events spans 4 days and is non-stop entertainment. 6-Man Volleyball Manhattan Beach The Festival has events throughout the weekend revolving around the beach and ocean, including a Bodysurfing Championship, Surf Contest, Lifeguard Competition, Dory Races, Paddleboard Race. Learn more about the 55th International Surf Festival.
Cosmic Brewery Soft Opening in Torrance: Friday, August 5, 2016 -Sunday, August 7, 2016 Cosmic Brewery, newest production brewery in Torrance, hosts another soft opening through the weekend. Cosmic Brewery is testing out their new system and training staff to prepare for an official opening, till then, stop by the brewery for a preview and taste: Friday 3:00 p.m. to 9:00 p.m., Saturday noon to 10:00 p.m. & Sunday noon to 6:00 p.m. Cosmic Brewery is located at 20316 Gramercy Pl, Torrance, CA 90501.
City of Torrance Presents – Free Concert in the Park: Saturday, August 6, 2016 – 2:00 PM – 4:00 PM The Torrance Community Services Department presents another great Concert in the Park. Bring snacks and a blanket, and come out to Columbia Park to enjoy a free concert by 5MileRadius. The band, composed entirely of South Bay locals, adds its own unique sound to covers of classic rock and blues songs by The Rolling Stones, Led Zeppelin, Joe Walsh and Muddy Waters. Columbia Park is located at 4045 190th St, Torrance, CA 90504.
The Art of Tokoyama: The Japanese Traditional Dance Wig Lecture and Demonstration: Saturday, August 6, 2016 – 4:00 PM – 6:00 PM An exciting and informative lecture and demonstration at the Gardena Valley Japanese Cultural Institute featuring a Japanese wig stylist, Tokuo Toyotani, and his protégé, son Kazuo Toyotani. During event, Toyotani, of the renowned Gekidanshinpa Theatrical Group in Japan, will discuss the art of combing Japanese dance wigs used in Kabuki and classical dance. For more information, call (310) 324-6611 or email info@jci-gardena.org. For Japanese language, call (310) 800-0118. "The Art of Tokoyama" is co-sponsored by the Nihon Buyo Kai of California and the Gardena Valley Japanese Cultural Institute. more info
Taste of San Pedro 2016: Saturday, August 6, 2016 – 5:00 PM – 10:00 PM The Taste of San Pedro is a culinary spectacle featuring gourmet food, handcrafted beers, spirits and fine wines. Guests will have the opportunity to enjoy choice samples from San Pedro and Peninsula area restaurants and beer, wine, and spirit tastings. San Pedro's newest craft brewery – Brouwerij West – will be open for the Taste of San Pedro. Plus, there will be live bands, fire dancers, street performers and other exciting entertainment throughout the evening. more info
2016 Summer of Music Free Concerts on the Pier: Saturday, August 6th, 2016 – 6:00 PM – 8:00 PM For over 20 years, the Redondo Pier Association has sponsored the biggest free summer concert series in the South Bay of Los Angeles. Summer of Music featuring 20 bands, continues on Saturday, August 6 with a performance by Neptune Cocktail (Instrumental Surf). The all-ages live music shows are free and open to the public and the main stage is located at the end of the historical Redondo Beach Pier over the water. more info

Saturday Night Beach Movies : Saturday, August 6, 2016 – 7:30 PM Hermosa Beach Friends of the Parks (FOP) and Hermosa Cinema Society are hosting Movies on the Beach produced by Allen Sanford of Saint Rocke. Meet FOP and others on the South Side of the Hermosa Pier. Fun begins at twilight and movie begins at 7:30 pm. Bring the family, friends, blankets, picnics and beach chairs! The event is free & donations welcome; Saturday Night Beach Movies shows "Raiders of the Lost Ark" (PG) as their first free movie of the summer. more info
Chewbetcha Reunion at The Standing Room: Saturday, August 6, 2016 – 10:00 PM Chewbetcha is getting the band back together! It's been 4 years since they last melted your face. Playing all your favorites and some new jams too. Taking it back to the place that started it all, formerly The Shore, The Standing Room is one of the South Bay's best live music venues. The Standing Room is located at 1320 Hermosa Ave., Hermosa Beach, CA 90254.
Hermosa Beach Summer Concerts feat. Brett Dennen & The Walcotts: Sunday, August 7, 2016 – 4:30 PM Brett Dennen along with The Walcotts will perform at the Hermosa Beach pier as part of the Hermosa Beach Summer Concert series this Sunday at 4:30 p.m. Expect thoughtful, laid-back tunes from singer/songwriter Brett Dennen much like Jason Mraz and Jack Johnson.The concerts take place on the south side of the Hermosa Beach Pier – bring your own blanket, chairs and non-alcoholic beverages. Kicking off the Hermosa Beach Summer Concert Series, presented by LA Car Guy, Kinecta, City of Hermosa Beach and other sponsors, is one of the hallmarks of a South Bay summer.
Shark Week at Cabrillo Marine Aquarium: Sunday, August 7, 2016 – Monday, August 13, 2016 – Noon – 4:00 PM Shark Week at CMA begins this Sunday and runs for one week ending Monday August 13. Enjoy exciting Shark Week activities, exhibits, movies and more all week. Check-out amazing Shark specimens like real shark skin, shark teeth and shark egg cases; create your very own Shark Egg Case. Post a photo of Cabrillo Marine Aquarium's Shark Week with the hashtag #CMASharkWeek2016 and you can be entered in Shark Week Photo Contest to win a gift basket of some Shark Swag. ($130 value). CMA is located at 3720 Stephen M White Dr, San Pedro, CA 90731. www.cabrillomarineaquarium.org