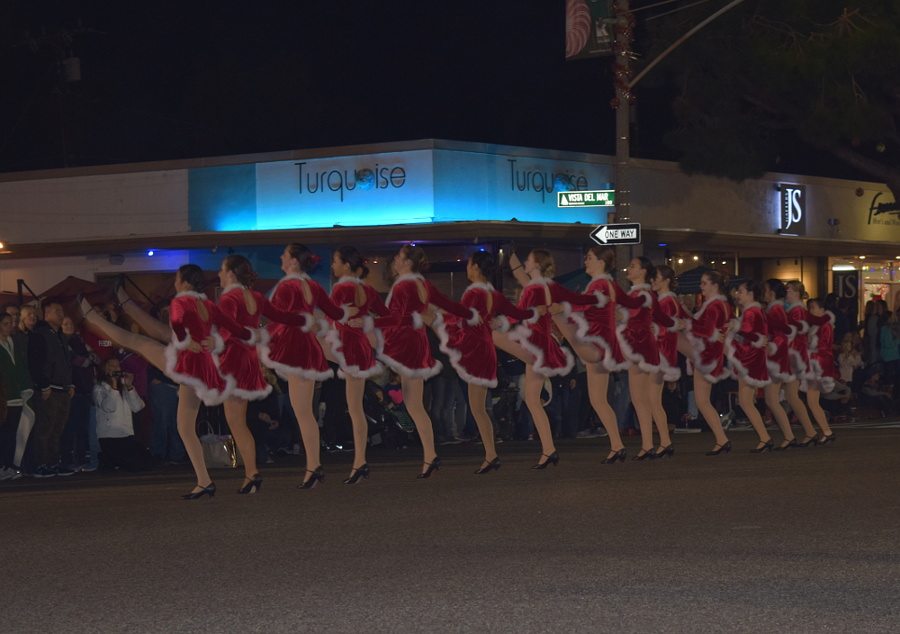 This weekend signals the opening of South Torrance's most illuminating neighborhood. Sleepy Hollow Christmas Lights beam merry and bright from about 6:00 p.m. to 10:00 p.m. every night until the evening of New Year's Day. Walking offers a much more relaxed, up-close view of all the displays, without worrying about holding up the cars behind you.
Skip the traffic by parking on Pacific Coast Highway, Calle Mayor or Prospect, and walk to Roberts Road, just west of Calle Mayor. If you want to take photos, a walking tour is a must. If you do make a tour of SHCL this year, be patient and courteous as crowds and congestion during viewing hours have grown substantially.
Below are a list of South Bay Events happening this weekend.
South Bay Focus : Saturday, November 19, 2016 – Friday, December 16, 2016 – 11:00 AM – 5:00 PM South Bay Focus is a contemporary and traditional art juried exhibition presented in conjunction with the Torrance Artists Guild and the South Bay Watercolor Society. South Bay Focus does exactly what it says, selects artists and their works from the South Bay cities in various forms: painting, sculpture, printmaking, photography, video & sound works. The exhibit at TAM will be on display to the public through December 16 2016. TAM is open Tuesday through Saturday from 11:00 a.m. to 5:00 p.m. www.torranceartmuseum.com
"How the Grinch Stole Christmas" aboard Battleship IOWA: Friday, December 2, 2016 – 6:30 PM Battleship IOWA and North Pole Movie Nights presents "How the Grinch Stole Christmas" (2000) Friday night starting at 6:30 p.m. The movie will be shown outside on the pier in front of Battleship IOWA, seating is first come first serve. Be sure and arrive with ample time to reserve your spot. Personal chairs and blankets are highly recommended. No outside food or beverage, concessions will be sold. No cost but donations are encouraged. Battleship USS Iowa: 250 S Harbor Blvd, Berth 87, San Pedro, California 90731
Victorian Christmas Weekend Celebration: Saturday, December 3, 2016 – Sunday to December 4, 2016 – 11:00 AM – 4:00 PM This Saturday and Sunday from 11:00 a.m. to 4:00 p.m. the Banning Museum will kick off the holiday season with their annual Victorian Christmas Weekend Celebration. The event is FREE admission for the general public and will be held at The Banning Museum, 401 East "M" Street in Wilmington. more info
Holiday Photo Booth at Del Amo Fashion Center: Saturday, December 3, 2016 – 1:00 PM – 5:00 PM Get in the spirit of the holidays with Del Amo Fashion Center. On Saturday, December 3, from 1:00 p.m. to 5:00 p.m., shoppers can take treasured holiday snapshots with family and friends at the holiday photo booth.
Multicultural Celebration – Winter Fishtivities at The SEA Lab: Saturday, December 3, 2016 – 10 AM – 4 PM Join The SEA Lab for a Multicultural Celebration (Winter Fishtivities event). Begin the day at 10:00 a.m. learning about different holidays, hearing stories, and making crafts. Then enjoy a live caroling performance at 11:00 a.m. Finally, wrap up the day with a fish feeding and touch tank tour from noon to 1:00 p.m. Don't miss out on this family friendly & fun multicultural celebration. Contact Rebecca with questions rfent@lacorps.org, 310-318-7458. The SEA Lab: 1021 N Harbor Dr, Redondo Beach, CA 90277
A New Orleans Christmas with Jeff Bordes & Friends: Sunday, December 4, 2016 – 2:00 PM & 7:00 PM Trumpeter Jeff Bordes along with special guests jazz up some holiday and Christmas tunes with a live performance of their own "New Orleans Christmas" at the James R. Armstrong Theatre in Torrance Friday night. Show times are 2:00 p.m. & 7:00 p.m.; 3330 Civic Center Drive. tickets
KJazz Presents Wagman's Gold & Silver Celebration at Warner Grand Theatre: Saturday, December 3, 2016 – 7:00 PM KJazz 88.1FM presents a concert celebrating the career host of Nothin' But The Blues, Gary "The Wagman" Wagner. Stars Walter Trout and Friends, Janiva Magness, and Alastair Greene Band also headline the event. Warner Grand Theatre: 478 W 6th St (at Pacific), San Pedro, CA 90731 tickets

Beer & Pie at Select Beer Store: Sunday, December 4, 2016 – Noon Had enough beer or pie yet? Select Beer Store in Redondo Beach's Riviera Village pairs various taps and cellared pours from Firestone Brewing Co. with sweet & savory pie makers Pie Pie Pie. Expect an assortment of meat pies, chicken curry pie, maybe a pumpkin or banana cream pie; kind of a Thanksgiving re-mix. Stick around to buy a bottled Christmas gift for yourself or loved one. Location: 1613 S Pacific Coast Hwy, Redondo Beach, CA 90277
Hermosa Beach Holiday Tree Lighting Ceremony: Sunday, December 4, 2016 – 3:00 PM – 8:00 PM Hermosa Beach Chamber of Commerce and Visitors Bureau present the annual Tree Lighting & "Rock For Tots" Toy Drive Charity Concert on Sunday, December 4th from 3 PM to 8 PM at the Hermosa Beach Pier. The event will feature the official lighting of the Hermosa Beach Holiday Tree to help kick off the holiday season near where the Hermosa Beach Pier and Strand meet. more info
Acoustic Sunday at The Dudes' Brewery: Sunday, December 4, 2016 – 6:00 PM Listen to this week's sister songwriter duo, SESTRA, perform while you taste some Dudes' brew. On tap in the Torrance tasting room this Sunday is JuiceBox Series Peach Berliner Weisse, Blood Orange Amber Ale, Chocolate Raspberry Imperial Cream Ale , CalifornIPA and more. The Dudes' Brewery is located at 1840 W 208th St, Torrance, CA 90501
CAN JAM – Canned Food Drive w/ Cubensis: Sunday, December 4, 2016 – Noon – 4:00 PM The Can Jam with Cubensis at Saint Rocke is Sunday noon to 4:00 p.m. That's 12 to 4 on 12/4, the same date as the Dead's first show. Yeah man! Admission is $5 and please bring a can of food for the needy. Saint Rocke is located at 142 Pacific Coast Hwy, Hermosa Beach, CA 90254.