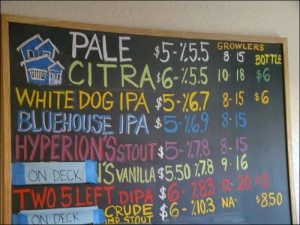 Summertime in the South Bay brings to life all the justifications taken to live a coastal lifestyle and puts them in a forgiving perspective, be it gridlock on Pacific Coast Highway or that annoying dearth of street parking, summer is a kind of therapy. Enjoyed in moderate consumption, so is craft beer. The South Bay is now home to a web of local breweries that aim to up the production on various summer seasonal ales and at the same time travel beyond the bubble to beer festivals and other craft beer events. The only South Bay brewery not fitted with a Torrance zip code resides just south of LAX in a land culturally closer to the Midwest, known locally as the "Gundo." El Segundo Brewing Co. makes a brand of brew that tastes toward the hoppy side of the beer spectrum and its signature Citra Pale Ale is a refreshing hoist for some summertime elbow bending. In the upcoming months, El Segundo Brewing Co. looks to release a summer seasonal that's a take on dark, Mexican lager, selectively attend some quality beer festivals, and up-tick production on their signature Citra Pale Ale.
Most beer in Mexico comes in lager form due to the warmer climate and the ever present market dominance of Tecate and Bud Light, but there are dark lager beers from south of the border like Negro Modelo that feature a caramel-amber color and a more roasted taste. ESBC's summer seasonal dark, Mexican lager is still a work in progress but it's basically an old German style beer similar to Bohemia's Obscura according to Thomas Kelley, ESBC's in-house rainmaker and resident Cicerone (sis-uh-rohn). Kelley anticipates a release party that's bound to be epic some time during the summer.
Even though most in the South Bay tend to mind their calories during bathing suit season, it hasn't deterred beach city beer drinkers from embracing hop heavy beers and in general mimics the trend away from domestic lager, low calorie beers to a more diverse range of beers like ESBC's hop friendly Blue House Pale Ale and IPA. Kelley claims that, "Hoppy beer culture fits the South Bay." Evidence of a hop forward beer drinking South Bay crowd is easily identifiable at any bar and restaurant that must now offer some version of an IPA or Pale Ale to its customer base.
With the second coming of craft beer and the rise of independent brewers across the South Bay, beer festivals have become just as popular. Unfortunately, there aren't many summer beer fests that cater to the beach cities crowd. The Manhattan Beach Young Professionals are really the only organization that hosts a summer event dedicated to networking and beer tasting. Fiesta Hermosa, the annual arts and craft extravaganza that blankets Memorial Day & Labor Day weekends, features a beer garden but usually pours domestic drafts or a lager from Kona Brewing Co. ESBC is working on getting their taps inside Fiesta Hermosa's beer garden for 2013.
According to Kelley, locales for beer festivals during the summer can stretch from Santa Barbara all the way down to Sand Diego and choosing a summer beer fest is a discerning process. Rob Croxall, Head Brewer & Proprietor at ESBC says, "We are a little more selective now, in the beginning, the first couple years, you want to jump on anything." They receive about a couple beer festival invitations a week and are most likely participating in some sort of taste or festival every weekend throughout Los Angeles or Orange County. Kelley and Croxall know that beer festivals equal eyeballs but just as important is the quality of customer interaction at each festival. In the end, Croxall says, "we want to be apart of something we can get behind."
The easiest way to get behind ESBC this summer is to visit their brewery on El Segundo's Main Street right across from Rock & Brews and sample what they are brewing inside their subterranean taproom. The taproom is open during the week on Wednesday, Thursday, and Friday from 5:00 – 9:00 p.m. then again on Saturday from 2:00 – 9:00 p.m. and on Sunday it pours from 2:00 – 7:00 p.m. The Gundo has a unique style and grace and El Segundo Brewing Co. reflects that attention to small town hospitality with an emphasis on quality, hop-driven craft beer.
El Segundo Brewery is located at 140 Main Street, look for the Blue House logo. Visit the website to find out moreabout what else is going on this summer at ESBC.