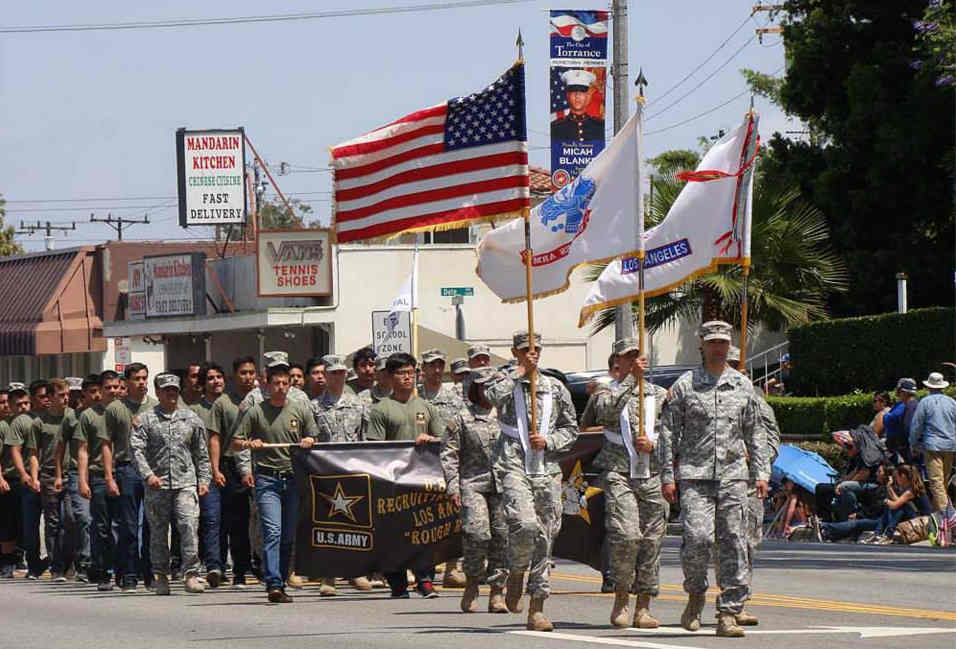 (Below information provided by press release from Torrance Police Department.)
Beginning May 19, 2017, through Sunday, May 21, 2017, the City of Torrance will pay tribute to the nation's Armed Forces with its 58 th Annual Armed Forces Day Celebration and Parade – the City's longest standing tradition. Each year, the city honors a different military branch; this year highlights the United States Air Force. Grand Marshal, General Ellen M. Pawlikowski, who serves as Commander, Air Force Materiel Command, Wright-Patterson Air Force Base in Ohio, will lead the Parade on Saturday, May 20th, 2017, that will begin at 1:30 pm.
General Pawlikowski will be the Grand Marshal of the parade that will include active and reserve military units from the five branches of the Armed Forces. The parade will also include military vehicles of all descriptions including: Humvees, armored personnel carriers, support vehicles and Abrams Battle Tanks will also rumble down the streets of Torrance.
Additionally, General Pawlikowski will conduct the swearing in of hundreds of future military heroes (recruits) from the five branches. Military, elected dignitaries, along with the community, will also be honoring the hundreds of military service men and women as they pass in review.
Throughout the weekend, the following events will occur in the city as part of the celebration:
Military Exhibits: Vehicles and support equipment on display outside the Life Style Wing in the east parking lot at the Del Amo Fashion Center, Friday May 19th, 2017, from 10 am to 7 pm; Saturday May 20th, 2017, from 3 pm to 8 pm; and on Sunday May 21st, 2017, from 9 am to 3 pm.
Free Concert: The United States Air Force Band of the Golden West will perform for free at the James Armstrong Theatre on Friday, May 19th, 2017, at 1:30 pm and 7:30 pm. Tickets will be available at the Box Office on Wednesday, May 17 th, 2017, beginning at 10 am. There is a limit of four tickets per adult (18+). Ticket holders must be in their seats 15 minutes prior to concert time. There will be a line available for empty seats beginning 15 minutes prior to the scheduled start times.
5K Run: Torrance Armed Forces Day 5K Run/ Walk, in tribute to Louis Zamperini, touring around beautiful Torrance, California on Saturday, May 20th, 2017 at 8:00am. All participants will receive an Armed Forces Day run t-shirt. Presented by the Torrance Area Chamber of Commerce.
Parade: Parade will begin on May 20 th, 2017, at 1:30 pm and run westbound along Torrance Boulevard starting at Crenshaw Boulevard and ending at City Hall.
The community is invited to gather along the parade route and cheer for our sons, daughters, friends, husbands and wives who have been called to duty in defense of our nation's beliefs and principles and to secure a more peaceful world. For more information please visit: www.TorranceCA.Gov/ArmedForcesDay.htm.
Photo: New army recruits march along Torrance Blvd. during 56th Armed Forces Day Parade (Photo by South Bay Events).