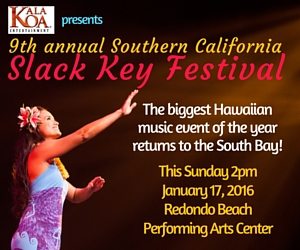 Listen to Hawaiian guitars sing this Sunday January 17th when Kala Koa Entertainment presents the 9th Annual Southern California Slack Key Festival at the Redondo Beach Performing Arts Center. One of the most acclaimed Hawaiian concerts to ever leave the islands, Slack Key Festival takes fans on a Hawaiian musical journey that showcases Grammy nominated slack key artists, an Island Marketplace, and an ever present Aloha spirit.
All of the soundtrack from 2011's "The Descendants" starring George Clooney is scored to the laid back rhythms of a guitar whose strings have been slacked from standard tuning, producing an amalgamation of acoustic guitar sounds & voices that bring life to an authentic Hawaiian musical art form: slack key.
On Sunday the music starts at 2:00 PM and the Island Marketplace opens to the public at 11:00 AM. Held in conjunction with the Slack Key Fest, the Island Marketplace is free to attend and is where Hawaiian artists and craft vendors share their unique treasures from 11:00 AM to 5:30 PM. Slack key artists featured in this year's festival include Cyril Pahinui, Jeff Peterson, Peter Moon and Jim "Kimo" West. To find out more about other slack key artists taking the stage this year, click here.
Parking is free and the Redondo Beach Performing Arts Center is located at 1935 Manhattan Beach Blvd. Tickets start at $25 and can be purchased at www.kalakoa.com.