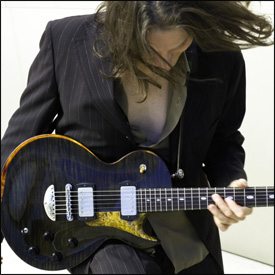 The Los Angeles Guitar Festival returns to the Redondo Beach Performing Arts Center for two nights of legendary riffs featuring some of the hottest and most respected acoustic and electric guitar talent on the planet. This landmark guitar celebration brings together all types of styles ranging from electric blues to gypsy jazz and acoustic fingerstyle on Friday August 24th and then again on Saturday August 25th.
Friday night comes alive with a performance from Albert Lee, 2002 winner of the Grammy Award for Best Country Instrumental Performance for the song "Foggy Mountain Breakdown." Lee's abilities help reinforce why Eric Clapton once called him "The greatest guitarist in the world." Then Eric Johnson, one of the premiere guitar players in contemporary music whose credentials include a Grammy Award plus five nominations, grace the stage. He´s also the architect of the award winning hit "Cliffs of Dover."
Saturday night´s line-up sounds off with a mixture of rootsy blues & rock vocal tunes from a tour de force called Renegade Creation. Founding members Robben Ford, Michael Landau, Jimmy Haslip, and Greg Novak complete one of rock´s most talented ensembles. An original pioneer of the American gypsy jazz movement, John Jorgenson, as well as the wit and warm soulful vocals of Doug MacLeod also take center stage on Saturday night.
To find out more information about this event and how to purchase tickets online, visit the official website of the 2012 Los Angeles Guitar Festival.