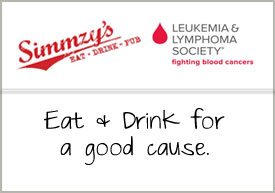 Simmzy´s Manhattan Beach and the Leukemia & Lymphoma Society (LLS) have partnered for one night only to raise awareness for blood cancer. Simmzy´s Manhattan Beach is generously donating a percentage of sales to LLS, in honor of Audrey & Nicholas, two amazing kids courageously battling blood cancer.
In 2005, 5-month old Nicholas Lee was diagnosed with Acute Myelogenous Leukemia (AML), a form of Leukemia that's rarely seen in children. Normally AML would be treated with a bone marrow transplant, but the cancer had forced its way into Nicholas's central nervous system. Nicholas stubbornly fought and won the first of what was to be many battles for his life. Seven years later, Nicholas continues to live life to the fullest.
To find out more about this event and how to donate, click here.
WHEN:Tuesday, April 10, 2012
TIME: 4:00p.m. – 10:00p.m.
WHERE: Simmzy's
229 Manhattan Beach Blvd.
Manhattan Beach, CA 90266