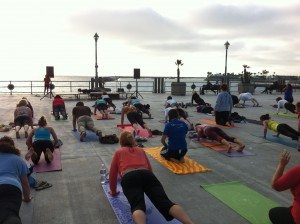 All types of yoga enthusiasts and skill levels are invited to get their downward dog on against the back drop of the ocean topside on the Redondo Beach Pier. Blue Zones Project and Cancer Support Community-Redondo Beach have teamed up this summer to present free yoga classes on the Redondo Beach Pier every Monday from 6:30 to 7:30p.m. Classes will be led by instructors from Spectrum Athletic Club and will run every Monday all the way through August 22nd.
In lieu of a class fee, donations will be accepted to benefit CSC-RB. Please be sure to bring your own yoga mat, towel, and water.
The Blue Zones Project is a community wide approach to creating healthier, happier and more productive citizens. For more information about BZP, visit their website.