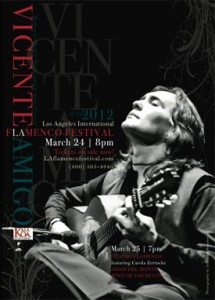 One of Spain´s most melodic treasures travels to the Redondo Beach Performing Arts Center through the strings of Vicente Amigo and the return of the 2012 Los Angeles International Flamenco Festival. The feeling of flamenco music, or the "duende", draws its sound and dance from a hybrid of Spanish, Gypsy, and Moorish influences. What was once a voice for the poor and repressed is now a global art form that takes audiences on a beautiful but emotional flamenco journey. This year"s festival is a two-day event featuring one of flamenco´s biggest stars, Vicente Amigo on Saturday, March 24th. The following day showcases the first American dance company to ever produce Spanish dance, Theatre Flamenco, on Sunday, March 25th.
Amigo´s international recognition stems from his fame amongst fans of Spanish-language pop and a critically acclaimed fourth album titled, City of Ideas, which won a Latin Grammy for Best Flamenco Album. His worldview perspective includes musical ties with the likes of Sting and Brazilian masters Milton Nascimento and Eliane Elias. Founded in 1966, Theatre Flamenco blossomed during the cultural revolution of the Bay Area in 1960s and provided a catalyst for the revival of Latino arts. Among other featured artists at this year´s festival are Adam del Monte and Nino de Los Reyes.
Produced by Kala Koa Entertainment, Saturday´s festival begins at 8:00 PM and Sunday´s performance starts at 7:00 PM. To find out more about Vicente Amigo and other artists performing at this year´s International Flamenco Festival, click here. The Redondo Beach Performing Arts Center is located at 1935 Manhattan Beach Blvd., Redondo Beach. Tickets are $35-$55 and can be purchased at www.laflamencofestival.com/.