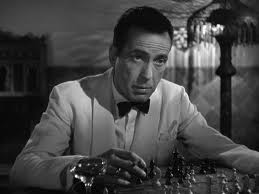 It's been 69 years since Humphrey Bogart and Ingrid Bergman romanced their way through iconic black and white cinematography, making what was easily the most quoted movie of the 20th century. A nightclub owner, smoke, love before war, and a host of cool characters are just some of the themes that make "Casablanca" an eternal classic. In 1943, Warner Bothers and director Michael Curtiz, received a Best Picture Oscar Award for "Casablanca." The movie is an enduring American legacy and will grace the silver screen one more time.
On Wednesday, March 21st, Turner Classic Movies celebrates the 70th anniversary of the time honored romance "Casablanca" with screenings in approximately 500 theaters across the nation. TCM has partnered up with NCM Fathom Events and its Digital Broadcast Network to showcase this World War II movie set in an unoccupied part of Africa.
Most AMC Theaters in the South Bay will be screening TCM's 70th Anniversary of "Casablanca", specifically AMC Rolliong Hills, AMC Del Amo, and AMC South Bay Galleria. Screening times vary between 2:00pm and 7:00pm.