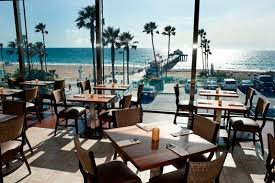 It's always difficult to generate buzz over the opening of a new restaurant, and people are naturally resistant to change. With the closing of a longtime bar and restaurant known as Beaches, many Manhattan Beach locals kept a wary eye on the prime location of the boarded-up eatery to see who would occupy it next. However, the reception of The Strand House by residents of the South Bay has been quick and warm.
Situated on arguably the best beachside property in Los Angeles, The Strand House offers up amazing views with few obstructions. Perched almost on top of the Manhattan Beach Pier and with a clear view of the entire Santa Monica Bay, the location is undeniably ideal. The Strand (the world famous beachfront bike path) runs across the foot of the establishment, so people watching is unavoidable. If you can score a table along the coveted front window, it can be hard to focus on the interior of the restaurant with the distractions outside. Perched literally on top of the stretch of sand that is known as "The Birthplace of Beach Volleyball", The Strand House is a popular spot for a sunset or evening drink after a day on the beach.
The main reason for the instant impact of the restaurant has been the food, however. The addition of an upscale restaurant seems to be what locals were looking for, following the recent gentrification trend in the city. With an extensive menu offering everything from a Braised Rabbit Gnocchi to an amazing Lobster Cavatelli, any palate will be pleased by the variety. The pricing isn't outrageous and the portions are good-sized, especially on dishes such as the Grilled Jidoori Chicken.
Any visit to the Strand House wouldn't be complete without a visit to the Strand Bar. It's already becoming a tradition for many locals to have an aptly named "Sunset Over Manhattan" (clementine vodka, fresh tangarine juice, blood orange cordial) or a martini at the end of the day.
The Strand House is located at 117 Manhattan Beach Boulevard in Manhattan Beach, CA and their number is 310.545.7470.
Related Articles: